GET YOUR CALIFORNIA
FOOD HANDLER CARD
The Probe It Food Handler California Card will be valid for a period of 3 years. This food handler course is for educational purposes only and acts as a preparation for state and county-accepted courses.
The following California counties have specific county courses: Riverside, San Bernardino, and San Diego.
Those who pass the food handler test have successfully attained the knowledge and understanding required to handle food safely.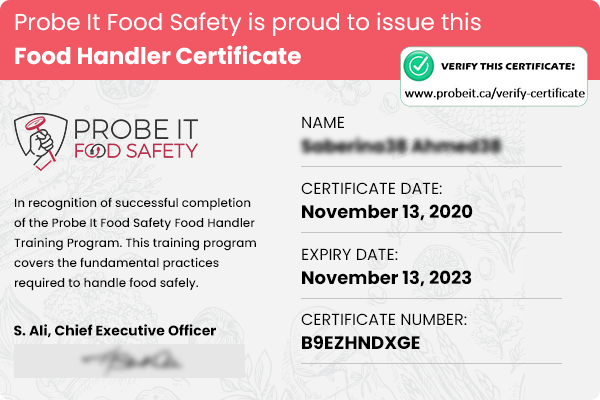 California Food Handler Card Online Training & Test
How to obtain your California Food Handler Card!
Register & Begin Immediately For Free
Take the Online Exam on any device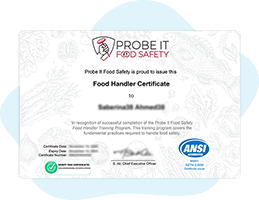 Purchase Certificate & Wallet Card
California food handlers card online
WHO SHOULD TAKE THIS FOOD HANDLERS TRAINING COURSE?
The California Food Handlers Card is mandatory for food handlers who work in the state of California. This course is for you if you work in a restaurant, daycare, hotel, food truck, nursery, café, banquet hall, school, or anywhere else you are preparing and/or handling food. NO previous training is required for this course. This food handler course is for educational purposes only, and acts as preparation for state and county-accepted courses.
Probe It provides quality service that is fun, innovative, engaging and suitable for everyone regardless of any previous training or understanding of technology. Our product and service quality is incomparable, and we are dedicated to serving with excellent and timely customer service. We distinguish ourselves from as providers of food safety courses by giving workers the opportunity to receive their required training conveniently while providing the best possible learning options.
Health Inspector Developed
The Probe It Food Safety Food Handler Training Program is developed by expects in Occupation Health and Safety.
Over 10,000 Happy Customers
PROBE IT is rated 4.8 on Google, and we are pleased to count THOUSANDS of SATISFIED CUSTOMERS among our students.
Free Exam Retakes. Why Pay More?
Save yourself the headache of purchasing Exam retakes. If you fail, just retake the exam for FREE. When? Immediately.
Food Handlers for Schools
Probe It provides FIRST-RATE and USER-FRIENDLY courses ideal for higher education institutions across Canada.
Introducing Our Fully-
Mobile & Tablet Friendly Exam
Probe It has made the entire course and exam available at the palm of your hand - NO LAPTOP, DESKTOP, or complicated programs necessary. Simply log in, and get the training you need. Our program is accessible and easy so you can focus on learning on ANY DEVICE, with no extra set up.
Trusted By Canada's Most Recognized Restaurant Chains
Probe It has been providing affordable food handlers certificate in North America for several years. Our Food Safety Course is simple and fun food safety training solutions to savvy employers and employees all across North America. To date, thousands of food handlers working for some of the most recognized companies in North America have taken their food handlers certificate with us.
Had a great experience with ProbeIt! Very affordable and the website is very user-friendly. When I contacted the support staff, they were always very quick to respond to me. Highly recommend to anyone looking to become food handling certified!
I chose this course off the internet and was greatly appreciative of its contents. I liked the ability to sign in, do part of it and go back and do more later. It was very well presented and easy to understand. Congratulations to the people who put the course online fantastic job.